First seen in the TVR club's Sprint magazine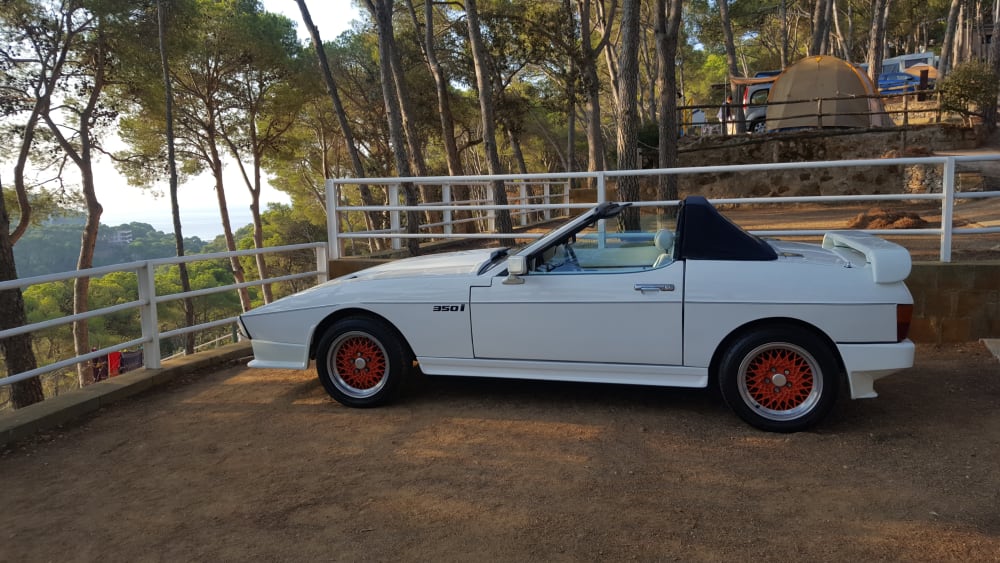 Fate, fortune, the gods. You just never see the buggers coming. About five years ago I was tempted into taking a look at a BMW E21 323i Baur. I had owned two of them before and only parted with them because neither were really good enough, however much money I wasted on them. This one proved even sadder than either of my exes. But lurking in the back of the dealer's barn was a 1985 TVR 350i. I had always wanted one - but then what self respecting motor head hasn't? It was tidyish with a low mileage, though it wasn't my favourite colour. I wondered what sort of first owner had ordered his car in brilliant white, with a full white leather interior and power steering. I wondered even more what sort of idiot had attempted to revive the interior by basically painting it white. They had also had ferrariesque twin tail pipes welded to the rotting and patched exhaust and fitted a tasteless wooden steering wheel. But I don't expect you'll be surprised to hear that I was smitten even before the rather disappointing test drive.

The car drove like a dog. It was plainly in need of considerable love. For the last ten years it had been little further than the MOT station each year. The tyres were dated 1996. Of course I bought it.

It had little power and every time I let the clutch out the wheels spun. I wasn't brave enough to drive it at speed on those tyres, and it wasn't long before I started on the course of love I had intended. First the interior came out as I tried to get it looking less sodded about with. I found sanding off whatever horrid preparation had been applied worked best, followed by many hours of cleaning, treatment and recolouring. While I was at it I put the battery in the boot and fiddled with a thousand other things. Then I got distracted by a Westfield, in similar need of love.

I had let my home and I'd been travelling for three years, in a huge, unwieldy and ludicrously underpowered 1981 Mercedes 308D camper, with my 1953 AJS hanging on the back. Having made my living as an illustrator for so long, I could now paint like never before. When back in Blighty between travels I was staying with my elderly mum and enjoying the garage and workshop. Then I decided to go off to south east Asia for a year.

I came back to mum's, which was actually as good for her as it was for me as she was well into her nineties and deteriorating, as we all will if we get that far. I carried on fiddling with the TVR, now in many, many bits, and waited for my tenants to leave. I moved back to my home in Battersea, redecorated, got sorted out and got cancer.

The gods had plainly decided I needed a more challenging journey than the ones I'd been making for the previous four years. Almost immediately I was pushed off the top of the treatment helter-skelter of radio therapy and chemo. The Westfield had to go as I just couldn't take being beaten up like that. The TVR was in a hundred pieces with no prospect of my being able to get it back together.

I was soon eating and drinking through a tube in my front straight into my stomach, and spending my time either in treatment, or sleeping and projectile vomiting. There was no guarantee of survival, but I was too ill even to worry about it. Somehow, every day, I managed to swing my leg over the now sadly departed Honda VTR, and ride up to the Charing Cross at Hammersmith. I felt human with a helmet on, and it helped keep me alive.

After a few months I was still using the tube and sleeping most of the time, but I felt the need for a car that I could actually drive. I made the mistake of buying an early Boxster S. Mistake? The Porsche was so incredibly accomplished and so seriously quick that it made almost anything else feel a bit compromised. And it certainly made the abused TVR feel very home brewed.

Well, four years on and I'm still here to moan about the state the treatment left me in. I've almost come to terms with what the medicos refer to as, 'the new normal'. This is actually French for, 'you're fucked!'. But much better than the alternative, and all hail the NHS. I don't think my treatment could have been better anywhere in the world, at any price.

It took me a year to be well enough to take the vows, but I got married. Then my mum came to the end of her days, and a couple of lurchers came into our lives. Eventually it was time to sort the poor old TVR. Reality was that many jobs I had intended to do had to be farmed out. Outriggers were made good, a new exhaust fitted and all new suspension. I had the wheels powder coated orange with 'chrome' rims. This is a great deal cheaper than diamond cutting, and far more durable. My wife Emma's future son in law turned up the elegant wheel centers. The interior went back in and the end started to hove into view. And then, one day I had it. A drivable, fully functioning TVR! So different from the neglected clunker I had driven five years earlier.

In the mean time I had acquired an ex California '75 911 Targa, and boy did it need love. It all came together at the same time as the TVR, and we planned to take the 911 on holiday to Spain. However, there was an incident. Best not to dwell on this, but the 911 wasn't going to be in one piece for a trans European jolly. So having been a going concern for about a week, the TVR was drafted into emergency holiday duties. Five years in bits, just reassembled - what could possibly go wrong?