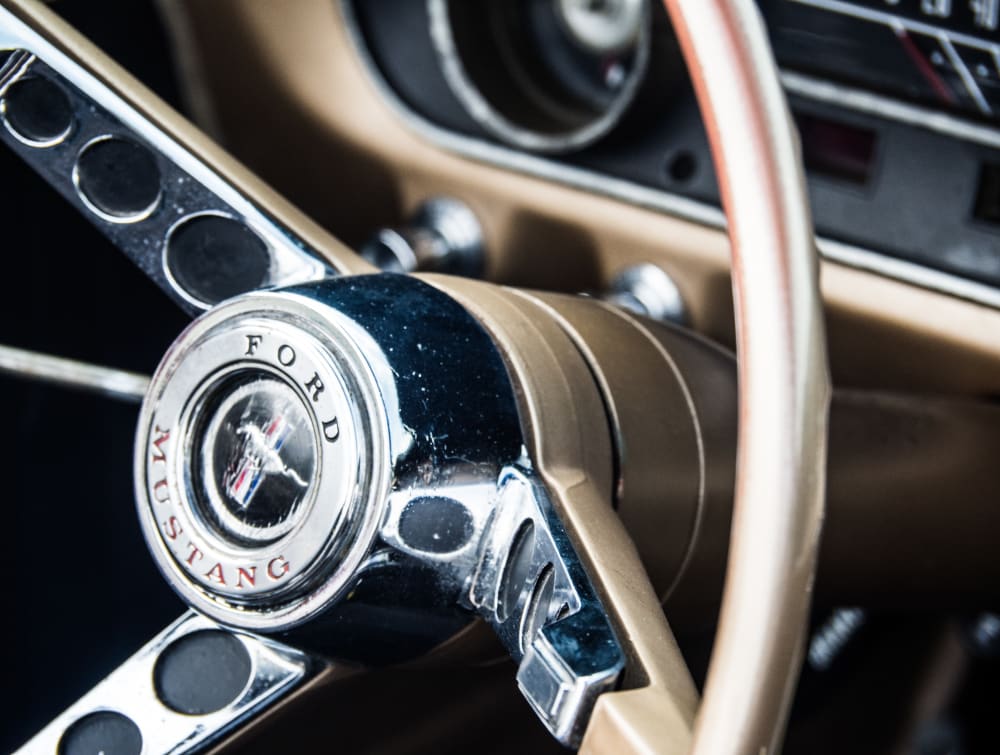 The Ford Mustang is an American car manufactured by Ford. It was originally based on the platform of the second generation North American Ford Falcon, a compact car. The original 1962 Ford Mustang I two-seater concept car had evolved into the 1963 Mustang II four-seater concept car which Ford used to pre-test how the public would take interest in the first production Mustang. The 1963 Mustang II concept car was designed with a variation of the production model's front and rear ends with a roof that was 2.7 inches shorter. Introduced early on April 17, 1964 (16 days after the Plymouth Barracuda), and thus dubbed as a "1964½" by Mustang fans, the 1965 Mustang was the automaker's most successful launch since the Model A. The Mustang has undergone several transformations to its current sixth generation. (ref Wikipedia)

Our bronze metallic Mustang was one of the first ever delivered and is designated as a 1964½. Ordered in 1964 and delivered 1965. It was the beginning of an ever-lasting era.

The technical details compared to the 1965 model are sometimes very different and the production figures for the early Mustangs (1964 ½) were significantly lower. They amounted to only 17.85% of the complete 1965 production.

The Mustang had a great success right from the start. The vehicle was to appeal to the young, sporty public and could be purchased from $2,368 (based on current purchasing power and adjusted for inflation, this is around $18,000).

Our Mustang spent her life in the USA in Las Vegas until 2018, we are sure she has some stories to tell about life in the Nevada desert. After importing to Austria she is now totally ready to drive and has the pickerl to 7/2021.

A true classic, which offers enormous driving pleasure and has already been driven diligently in the Salzkammergut in the lake district.

The Mustang replaced the Thunderbird as the number one sports coupe from Ford.
Designed the Mustang was Lee Iacocca, who died in July 2019 at the age of 94.